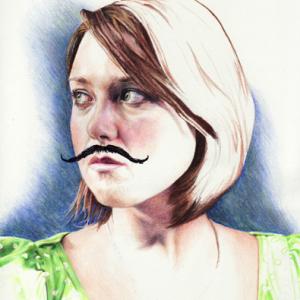 Laura Heaney
Artist member since 2018
Toronto, Ontario
Laura Heaney is a contemporary portrait artist and creator of the Observing Green project, based in Toronto, Canada. With drawing as her chosen media, Heaney's primary focuses are her hyper-realistic portraiture, multimedia Observing Green project, with a secondary focus on large-scale acrylic painting. Her work has been represented in shows throughout Southern Ontario, the Canadian Maritimes, Quebec and New York. Graduating from the University of Toronto in 2007 with an Honours Bachelor of Arts, majoring in visual arts and minoring in both history and art history, Heaney brings a combination of classical training and contemporary thought to the Canadian art scene.
---
When did you start making art, and why?
I've always made art, but I would say that I started to become quite serious about it in early high school, maybe even late elementary school.
Your favourite spot in Toronto right now
My backyard. I live in a small semi-detached bungalow in Toronto's east end with a spacious backyard, and it feels like I live in a cottage in the city. It's so calming.
When I'm not making art, I'm (a) ...
Musician, Creative Thinker, Social Media Guru, Cyclist, Outdoors Enthusiast & Imagination Maker
Favourite artist(s) right now
Shaun Downey, Kelly Grace, Matt Durant, Joey Bruni, Troy Brooks
Favourite medium
Pencil Crayon
Describe the person your work appeals to in 3 words
Intelligent, Whimsical, Humorous